Are you considering solar installation in Massachusetts? If so, you're making an excellent choice for yourself and your property! Solar offers many benefits, including pollution-free energy and lower utility costs. Additionally, solar panels can increase property values in many cases!
However, some property owners might wonder if Massachusetts solar installation makes sense for their homes or businesses. Some might assume solar is only for sunny states like California or Florida. Others might wonder if their return on investment is worth the cost. To help you make the right decision for your property, check out some details about home solar panels in Massachusetts.
Why Choose Solar Panel Installation in MA
To determine if solar power is suitable for your home, you might first note some advantages of solar in general. Then, you can better understand how these benefits might apply to your property!
While electricity doesn't produce fumes or emissions, power plants are responsible for creating tons of pollution. These include mercury, metallic toxins, and acid gasses, among others. On the other hand, solar means clean, green energy without pollution, chemicals, fumes, gasses, and other emissions.
Installing solar panels means a reduced energy bill. In some cases, your panels might produce so much energy that you can sell them back to your local utility provider. For many homeowners, this means saving thousands of dollars, if not tens of thousands, on energy costs over the lifetime of solar ownership.
Solar panels often increase property values by about 4% or more. In turn, you can build equity faster after a solar installation. You can also sell your property for more money if you should decide to relocate.
Investing in solar for your property can encourage your neighbors to do the same! After all, they can easily see those solar panels every time they drive by. Consequently, your entire neighborhood might soon lower its overall "carbon footprint."
If you want to know more about solar panel benefits, call our team. We can explain these in more detail and note if solar suits your property.
Is Installing Solar Panels Good for Massachusetts Properties?
Now that you know more about solar panel systems, you might still wonder if they're a good choice for Massachusetts properties. First, note that boards need sunlight to operate. In turn, the more sun exposure, the more energy they produce.
Massachusetts can't compete with Florida, California, and other such states regarding sunshine. However, the state does typically enjoy some 200 sunny days per year. That's more than half the days on a calendar!
Also, note that solar panels don't stop working during cloudy days or wintertime. Instead, they collect less sunlight, producing less solar power. As a result, you might not enjoy the exact lower utility costs during winter months as you do in the summertime.
Remember that solar panels are a long-term investment and that your savings add up over time. Additionally, solar panel manufacturers are constantly working to improve their overall efficiency! Consequently, you can enjoy tremendous energy savings when investing in solar, even in Massachusetts. Not to mention, the Bay state offers unequivocal solar incentives, and panels will help homeowners combat rising electricity costs.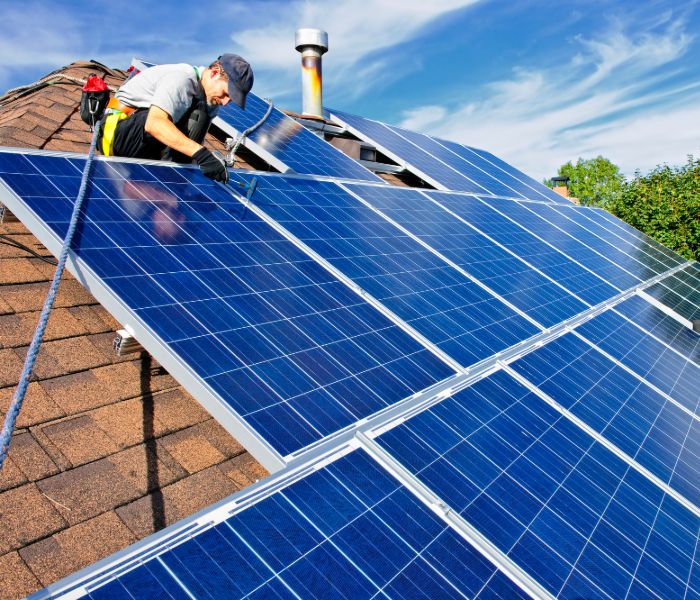 Are Solar Panels Expensive to Own?
Solar panel installation costs are probably the biggest downside to solar investment. However, note that panels are getting more and more cost-effective every day! Also, the 2022 Inflation Reduction Act extended tax credits for solar installation costs. That extension means most property owners can expect to claim 30% of those costs as a credit on their federal taxes.
Additionally, consider that increased equity in your home and a higher sales price help offset those costs. Reduced energy bills year-round also make that investment an excellent choice for property owners. A solar panel system protects roofs from damage, which can mean fewer repair bills!
Lastly, note that many consumers choose solar for their environmental impact more than anything. Solar panels can also upgrade your electronics and appliances without worrying about producing more pollutants. For all these reasons and more, choosing solar for your property is sure to be a great investment.
We'd Be Happy to Install Solar Panels on Your Home
Go Solar MA is happy to provide this information about Massachusetts solar installation. Hopefully, it helped you decide about solar for your property. Call our solar power contractors if you're ready for expert services at affordable prices. We offer FREE installation price quotes and can help you choose the best panels for your home or business. Additionally, we guarantee every installation for quality and durability. For more information, contact our solar installers today.